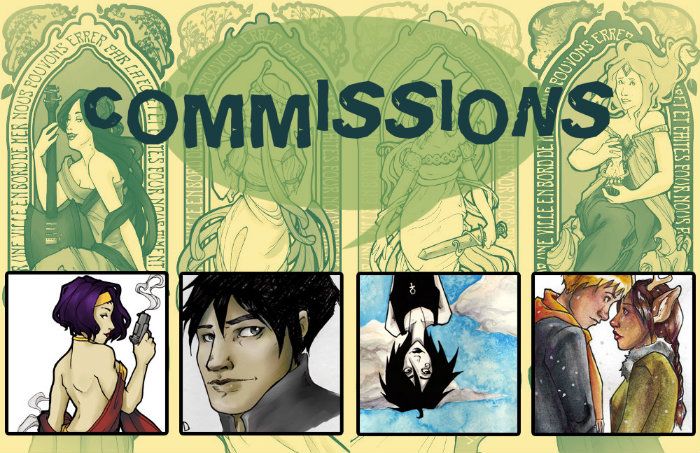 TYPES OF COMMISSIONS
I am fine with OCs, furries, canon characters, genderbent, GLBT characters, sexy stuff, violence, whatever. I am always open to odd and unique ideas and enjoy working on sorta out there ideas.
These prices are for illustrative style commissions. I am open to realistic style commissions, but the prices will be on a different style scale.
All my commissions started at base price inked:
Bus
t-$25
3/4 or full character
-$35
-the choice between 3/4 or full character is based on composition and character. Please specify if you have a strong preference.
Inked Mucha Style
-$45
Character sheet
-$100
-Includes a front, side, and rear full character, a bust, and one detail of your choice (Paws, necklace, etc)
Icons
-$5 (If you buy 9, the 10th is free)
Flat colors, generally face's only.
To add
flat colors
is an extra $10.
To add
full colors
is an extra $20, and you can pick between water colors* and digital color.
*Not available for Mucha's with backgrounds
To add
another character
is $25
Backgrounds and large props
vary by complexity, but start at $10.
With the Mucha, you can also choose to add one of our 6
Mucha style background
, altered to match your character, for $10
Details:
In the case of very detailed or difficult characters, I may request a detail charge. I try to avoid it at all costs, but a 10 legged, 18 eyed creature with 3 sets of wings is just harder to draw then Sailor Moon. This fee can vary.
WHAT I NEED
Firstly, tell me anything you want specifically. If you need a specific pose, outfit, etc. I am comfortable making these details up as I go, but I don't want you to be unhappy at the end.
Reference pictures are great. I'll also need a way to contact you if I have any questions.
USAGE
Once you own the piece, you are free to use it for whatever personal use you'd like. A link is always appreciated but not required.
-You cannot claim it is your work.
-Please discuss commercial use with me. I am not oppose to commercial use but it effects several factors, including price and design.
I will send you a digital copy and, will in my power, make it as large as you like. If a piece is water colored, I will ship the physical piece to you for an extra fee.
EDITS
I do my art analog first-it is drawn and inked permanently. You can give me as much detail as you like before hand, and I will do what I can to get it all in there. When I show you the pencil sketches, that is your "speak now or forever hold your peace" moment. Once pencils are approved, I ink them, and though I will do my best to make little changes, it is generally set in stone.
However, I will only make changes based on my mistakes/misunderstandings or minor changes. If you didn't give me the information, and are suddenly wanting a whole new piece, I am going to have to start from scratch, and there will be a fee there. However, if you asked me for your girl to have a tail and I missed it, or it is a small adjustment (add a necklace, her hair should be in pigtails, etc) I will do my best to change it.

REFUNDS
Commissions are non-refundable except on fault of the artist. If I decided I cannot create what you asked for, I will give you a full refund if no other subject matter can be decided on.
Current commission list:
1) Art Deco Justin Hammer from Iron Man-50%
2) Mucha Venus De Milo from Static X-0%
3) Mucha Eva from Animorphs-0%
4) Open
5) Open
6) Open
7) Open
8) Open
9) Open
10) Open
If commissions are full, leave me a comment and I'll contact you when I have a spot open.